Kavárna na Kozím placku is located in a quiet district of Kutná Hory in a historic cottage. We have recently renovated everything for you so that you can enjoy a cozy modern cafe with quality service.
Our goal
Our long-term mission is to provide a place to recharge in a cozy, historic house and to offer quality, tasty and exquisite snacks and refreshements. We offer simple refreshements and tasty snacks combining the czech culture with an internationl vibe and prepare unconventionally selected coffee for coffee connoisseurs, tourists and locals, all with the planet in mind.
Ingredients
We believe that there is beauty (and taste) in simplicity and we prepare everything from quality basic ingredients. We are happy to support local and smaller suppliers. We try to have as little waste as possible, we compost and in the future we have plans to buy as much as possible without packaging.
Service and staff
We work with high school and university students, who we train for a long time before we let them out on their own. It will often allow them to gain their first work experience and acquire work habits. You will see for yourself that they are willing, reliable and like to come to work in the cafe. They stay with us for several years.
Our recommendations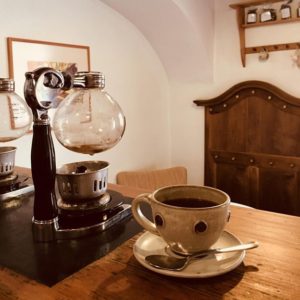 You can remind yourself of your favorite taste in the permanent menu, or if you are looking for something newer, we try to innovate and bring new and various desserts and drinks to the cafe so that there is something new for everyone.
Have you already been to the cafe and favor a specific table? Or are you going to Kutná Hora with your family and want to guarantee a place in the cafe on the weekend? Reserve a table for free, online or over the phone. There is plenty of choice, we have twenty seats inside, another twelve outside on the terrace.
or call at +420 739 964 711 our staff speaks english don't worry ;).